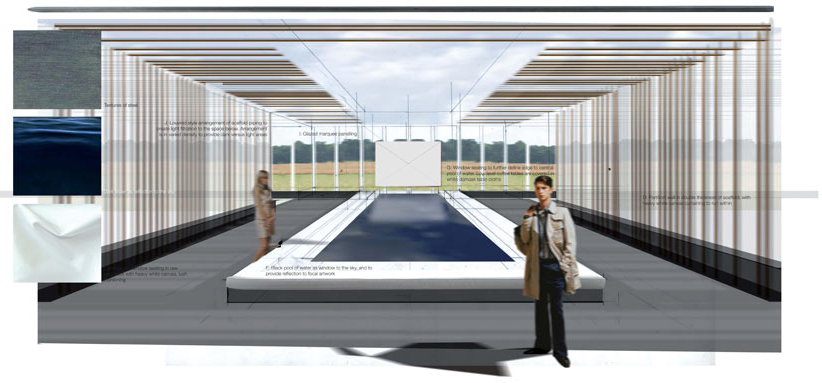 Art Pavilion 2
Project scope
The design of a pavilion to host up to 300 guests, to display work from a leading corporate art collection, and to house a wine bar and canapé servery. The pavilion formed part of a temporary structure for a major international art fair in London.
Client
Confidential
Role
As architect: pavilion design
As designer: furniture, lighting
As creative director: culinary concept, host uniforms, all associated graphic material
Collaborators
Urban Caprice: www.urbancaprice.co.uk
Laura Quick: www.lauraquick.co.uk
Project details
Rebecca chose recycled scaffolding to create an unlikely but suitably minimal pavilion structure. Through the use of reused steel-deck, recycled exhibition panels and a number of other 'green' furniture solutions, She also provided the client with the opportunity to present its environmental conscience. Although honest and raw in its character, Rebecca was successful in creating a comfortable retreat from the main art fair, whilst retaining the personality and flair for which the pavilion has become renowned.
This was the 4th consecutive year Rebecca Richwhite was commissioned to design the client's pavilion.